Ingenico Credit Card Machine Alert Irruption: A guide for Merchants
Today I'll explain what it means when the Ingenico card machine is saying Alert irruption, and what you can do about it.
There are a few misleading videos on YouTube showing how to apply the "secret" Ingenico alert irruption fix. That's why I decided to create this post and provide accurate info on alert irruption meaning, what is causing this error and how to deal with it.
POS swipe machine models covered in this post are: ICT220, ICT250, IWL220, IWL250, IWL251, IWL255, IPP320, IPP350, Move2500, Move3500, Move5000, Desk3500, Desk5000, ISC250 and other Ingenico models.
So without further ado, let's dive right in:
What is Alert Irruption on Ingenico Card Machine?
According to Payment Card Industry (PCI) security requirements, all payment terminals need to have a PIN entry device protection from unauthorized opening (also called tampering). 
This is done mainly to prevent fraudsters from opening the terminal when the store is not attended. Fraudsters can then insert a skimming device that will collect the card and PIN data during the shop business hours and use those card numbers later for fraudulent purchases.
"PCI POS PED Security Requirements and EPP Security Requirements" clearly state that "at least three blind, tamper switches must be implemented" on the credit card machine.
So if only one of those tamper switches is activated, you will notice the credit card machine saying Alert irruption, which means that you can no longer use the card terminal due to suspected tampering.
In general, whichever Ingenico terminal model you are using (ICT220, ICT250, IWL220, IWL250, IPP320, IPP350, etc.), the error message usually looks similar to this one (alert irruption ingenico ipp320):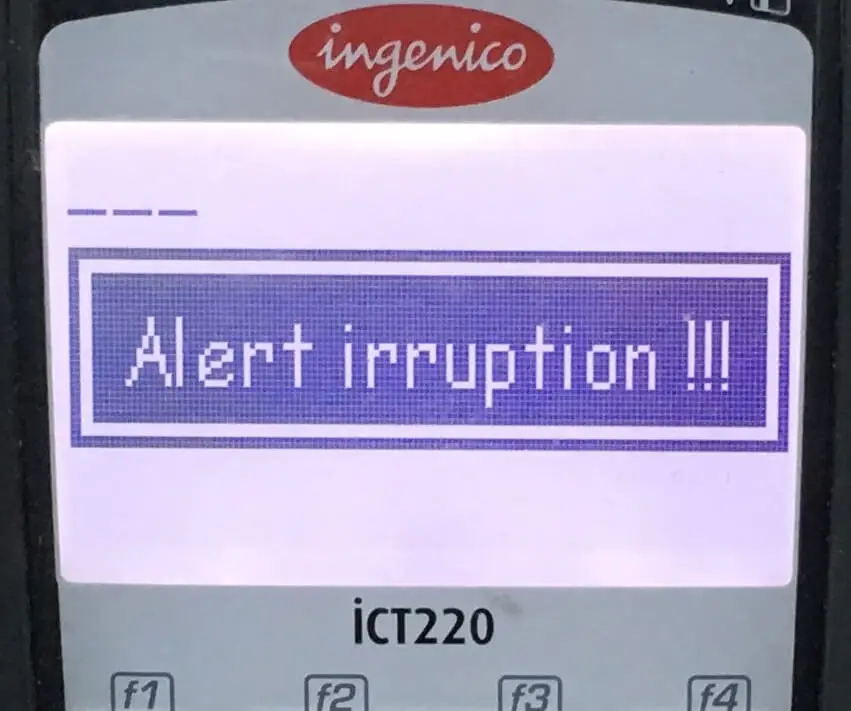 Why Ingenico Card Machine is Saying Alert Irruption?
As previously explained, alert irruption message is shown when one or more tamper switches in the card machine go off.
It could be that someone was trying to open the casing of your payment terminal.
But often, this is not the case.
From my experience, tamper switches can be activated by one of the following events:
Someone has attempted to tamper with or open the card machine;
Physical shock - card machine sustained a hit or was dropped;
Exposure to extremely high or extremely low temperatures;
Electrical shock - a result of a power surge, or power outage followed by a sudden grid voltage increase;
Static electricity discharge or lightning bolt;
Card reader damaged by liquid, or improper cleaning;
The device has been powered off for too long - this can lead to a depleted internal battery (like the one powering the bios clock in your laptop or PC).
Is there a POS Ingenico Alert Irruption Error Fix?
After getting this error, the first logical question is how to fix alert irruption on the card machine and continue accepting card payments?
You can try these steps if Ingenico card machine is not connecting. Or try Ingenico reboot first (check out this post on "how to restart Ingenico card machine") to see if it helps.
But often, this is not the case.
Now,
You may not want to hear this, but here we go:
There is absolutely nothing you can do on your own to quickly fix the "Alert irruption" error.
I have seen a few videos on YouTube where some Pakistani guy shows how to revive the payment terminal by entering a secret code. Unfortunately this is totally fake and not possible, at least for the alert irruption Ingenico error.
Let me explain.
The thing is, when the "alert irruption" error is shown, tampering protection inside the card machine has already been activated. Once activated, the self-destruction mechanism is triggered. As a result, all encryption keys are instantly cleared out from the card machine memory, rendering it unusable.
Depending on the POS maintenance contract you have, there are basically two options left on how to arrange Ingenico alert irruption reset:
Contact the Ingenico service vendor or merchant help desk service line and ask for a card machine terminal swap; or,
Contact the Ingenico service center and ask for a card machine terminal diagnostic and repair. Usually, the service will collect it, or you will need to ship it. The repair is usually done at the repair center because of the reactivation and secure inserting of the encryption keys back into the terminal.
Last but not the least, put up a clear and visible card machine out of order sign. 
Depending of your card machine make year, you might also experience the "Pin Pad out of order" error after the reboot. Check this post for more info: Pin Pad out of order.
Ingenico Unauthorized Error
Ingenico unauthorized error usually shows up when the internal card machine battery (powering internal clock) is fully depleted.
Although this is not the same error as alert irruption on card machine, it is directly related.
Why those two errors are related?
Because, to replace the internal battery, you need to open the terminal. Once you open it, it will become tampered, and will show Alert irruption POS error.
It means that the same fix applies as for the alert irruption - in other words, you need to send the terminal to the official Ingenico repair center to replace the battery and reactivate the terminal.
If you found this post helpful, I'd appreciate it if you would share it.
---
Author: Drasko Georgijev
I'm a financial technology professional with 15+ years of experience in payment cards, eCommerce, POS transaction processing, and switching.
From time to time, I'm sharing some helpful tips, tactics, and news about Digital Commerce and Fintech.
So don't forget to share this post and subscribe to my mailing list.
Got questions? Ping me on LinkedIn.