Wix Review for 2022: Features, Pricing and Top Alternatives
Whether you're looking to start an eCommerce business or develop a digital presence for your brick-and-mortar store, the first step you'll need to take is to create a business website.
Luckily, many e-commerce platforms on the market allow you to do just that, regardless of your technical knowledge or skill level.
Wix is still one of the most popular website builders, serving over 150 million users in 190 countries. Wix is known for its breadth of features, ease of use, and functionality for professionals and businesses alike.
Is Wix the right website builder for your business?
This Wix.com review is here to help you decide. Considering the vast capabilities of the Wix platform, we'll break down the different ways you can create a business website.
Furthermore, we'll explain the variety of features available and Wix pricing plans based on your needs. We'll also explore top Wix alternatives so that you have a full sense of the options you have when trying to decide the best platform for your business.
Wix Review: The Basics
In essence, Wix is a website builder that enables you to launch, design, and customize a website - whether to start an eCommerce store, sell tickets and manage events or only to promote your business online.
Wix offers services for both individuals and businesses that can provide you with the specific website functionality you require. With Wix, you'll get a domain name for your site, secure web hosting, and the ability to manage the whole of your website in one place.
You can start using Wix free of charge and later opt for one of their business or premium website plans to expand your capabilities further. Depending on your needs and knowledge, you can choose one of the three different web builder options.
Wix Web Editor
The Wix Web Editor is a classic drag-and-drop website builder. You can choose from over 500 templates (including those specifically designed for different businesses). Then, use the drag-and-drop functionality to customize your design to meet your business's needs, all without any technical or coding knowledge.
The Wix Web Editor also includes SEO tools, media galleries, and advanced design features—like animation, video backgrounds, and scroll effects—as well as unlimited fonts. All of the websites built this way are optimized for mobile and can connect to the hundreds of apps in the Wix App Market.
Wix ADI
If you want to make the process of creating a website even easier, you can choose to utilize Wix ADI. This artificial design intelligence will completely design a unique website for you after answering only a few simple questions.
With Wix ADI, you'll get a tailor-made website that you can completely customize using advanced editing options after ADI builds the initial site. Throughout the building process, the Wix ADI will give you access to helpful tips and common actions with each step.
Like with the Wix Web Editor, websites created using Wix ADI are automatically optimized for mobile and have built-in SEO.
Corvid by Wix
Finally, suppose you have the technical knowledge and want to code and customize your website using Wix as your basis. In that case, you can work with Corvid by Wix. Corvid is an open development platform that allows you to work in the Corvid online integrated development environment and use their APIs to create, modify, and launch your web project on the Wix cloud. Unlike the Wix Editor and Wix ADI, this option is designed for those who have more advanced experience with building web apps.
That being said, Corvid by Wix gives you the ability to utilize a visual builder for front-end development and use an integrated database to maintain and present content. Also, connect to third-party APIs and truly customize your user experience with Corvid's APIs for business and marketing tools.
Wix Review: Features
Regardless of which of the three methods you choose to build your website with Wix, this platform will provide you with an expansive feature set, including both general features and those specifically geared towards running your business operations using Wix. In fact, according to their website, Wix has over 1,000 innovative features for you to use. Keeping that in mind, let's explore some of the core functions Wix offers:
General Wix Features
As we explained above, signing up for an account with Wix will allow you to build a website for your business, using whichever of the available methods you prefer. If you use a free Wix plan, you'll receive a Wix subdomain. However, you can use the domain you already own, or create a custom one with Wix's premium plan. All Wix websites have SSL Certificates and are hosted securely by Wix. In addition, you can always access your website through the Wix mobile app.
Additionally, Wix includes:
Contact management.
Web analytics tracking.
A Wix chat tool.
Email marketing connections.
Social media.
Member login functionality.
Furthermore, as we mentioned previously, Wix gives you access to the Wix App Market - including tons of free and paid add-ons for design, marketing, analytics, social tools, and business management.
For support with your business's website, Wix provides a robust Help Center on their website where you can search through the documentation and FAQs, watch tutorials, or open a support ticket.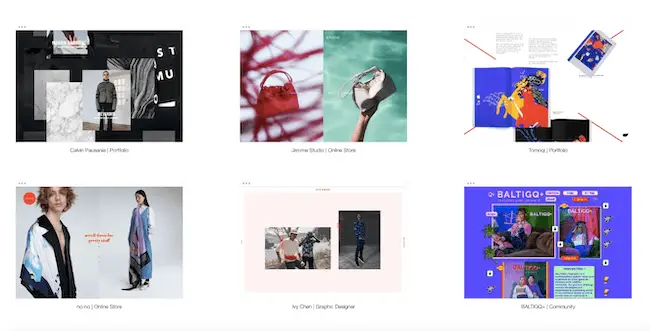 Business-Specific Wix Features
Wix provides various specific features to help you create a website that meets your business needs.
Wix Stores
Wix Stores is the equivalent of your traditional eCommerce platform. With Wix Stores, you can create your own online storefront to display and sell physical and digital goods. Wix Stores allows you to offer coupons and discounts, accept payments from customers, track your orders and inventory, and set customized tax and shipping rules.
Wix Bookings
Wix Bookings allows service-based businesses to offer various services directly from their business website. You can manage Wix Bookings online and through the Wix mobile app. Businesses can list their availability for clients to book online, sync bookings with Google Calendar, accept payments, and send clients automatic email reminders.
Wix Blog
With the Wix Blog, you can create and edit blog posts to your website and use blog tools to manage comments and share on social. The Wix Blog allows you to add multiple writers, giving them permission to write and manage posts. Additionally, you can fully control the Wix Blog with the mobile app or through your Wix account online.
Wix Music
Suppose you produce or sell your own music. In that case, Wix Music allows you to utilize a customizable music player to showcase your albums, tracks, and playlists. Customers can listen to and purchase your music directly from your website. Wix Music offers advanced stats to track which songs are getting the most plays, downloads, and purchases.
Wix Photography
Wix Photography allows you to display your images, videos, and text in over 30 different galleries. You can set the quality and sharpness of your photos sitewide and protect images with a built-in watermark and password.
Wix Video
With Wix Video, you can create a video showcase, manage and customize your own branded video channel. Wix Video allows you to upload videos from anywhere—including your computer, YouTube, Vimeo, and Facebook. You also can use Wix Video to rent, sell, or offer monthly subscriptions to your video channel.
Wix Events
If your business hosts events, you can use Wix Events to manage listings, invitations, and RSVPs on your website. You can also use Wix Events to send email invites, allow guests to register, and keep track of your guest list. Additionally, Wix Events gives you the ability to sell tickets - setting a price and connecting payment methods for shoppers to complete their purchases.
Wix Restaurants
Wix Restaurants gives you the ability to promote your restaurant and offer online ordering and reservations from your business website. You can add and customize your restaurant menu, including images and prices. In addition, you can accept delivery or pickup orders and allow customers to book a table online and receive an automatic confirmation email.
Premium Wix Features
As we briefly mentioned earlier, you can choose to use Wix for free or purchase one of their premium plans. Wix offers four website premium plans as well as four business premium plans. With the premium plans for both business and website, you'll receive added functionality as the plan prices increase (as we'll explain in our pricing section below). Generally, all the website-category premium plans and the business-category premium plans each have a respective set of included features:
Premium Website Features
All four of Wix's premium website plans allow you to increase storage and bandwidth, connect a custom domain, integrate Google Analytics, get premium customer support, or a customized favicon (which is a distinctive icon shown in the browser tab). The premium website plans allow you to remove Wix injected ads from the site.
Premium Business Features
All of the Wix premium business plans give you the ability to accept online payments without fees or commissions. These plans also allow you to remove Wix ads, connect a custom domain, utilize increased storage, and integrate with Google Analytics. Furthermore, all Wix premium business plans offer ad vouchers, unlimited bandwidth, and additional web tools.
Photo credit: Wix.com
Wix Pricing
Perhaps one of the best parts of Wix is that you can create a website using their platform, completely free. If you sign up for a free Wix account, you'll have access to all of the general features you need to develop and launch a website for your business. Additionally, you'll be able to expand your functionality using any compatible free tools (or paid, if you choose) in the Wix App Market.
However, suppose you're looking to use your business website for anything other than basic digital promotion. In that case, you're probably going to want to look at the Wix Premium Plans. As we mentioned earlier, Wix offers a total of eight premium plans, four for businesses and four for general websites. Each of these plans is priced as a monthly subscription-based fee and includes additional functionalities as you progress with the higher-level plans. Plus, Wix allows you to try any of their paid plans for 14 days and offers a money-back guarantee if you are not 100% satisfied.
Website Premium Plans Pricing
The four website premium plans range from $13 per month to $39 per month, as you can see in the photo below. However, it's important to note that the prices displayed are for yearly subscriptions that Wix charges in full at the time of purchase. As we explained the premium features, each plan allows you to connect your own domain, remove Wix ads, and increase storage and bandwidth. Furthermore, Wix includes ad vouchers and additional website apps and tools as you get to the Unlimited plan and above.
Photo credit: Wix.com
Business Premium Plans Pricing
The four business premium plans start at a higher monthly price than the website premium plans. Like the website plans, Wix lists the pricing for their business plans with a monthly rate even though these rates are based on annual subscriptions and are charged in full at the time of purchase. Keeping this in mind, the Business Basic plan costs $23 per month, the Business Unlimited costs $27 per month, and the Business VIP costs $47 per month. Finally, you can get Wix's Enterprise solution at $500 per month for large businesses. Although the premium business plans have many of the same added functionalities as the premium website offerings, the most significant difference is the ability to accept online payments. None of the website plans have this capability, whereas all business plans do. Additionally, all business plans have unlimited bandwidth and more storage capacity than their website counterparts.
Furthermore, all premium business plans offer commission-free online payments, meaning you'll only have to pay payment gateway processing fees (Stripe, PayPal, etc.) you choose to work with. If you don't already have a payment gateway, you can decide to use Wix Payments. With Wix Payments (Wix's in-house payment provider), you'll pay a flat rate of 2.9% + $0.30 per transaction.
Here is a detailed post on how to link a payment gateway to Wix website.
Photo credit: Wix.com
Wix Review: Pros
With everything Wix has to offer, there are certainly reasons why this might be the right website platform for your business. Here are a few of the most important benefits of Wix:
Ease of Use
When reading Wix.com customer reviews on the internet, you're more than likely going to find users talking about how easy it is to build a website using Wix.
In fact, this is probably the comment that you'll see again and again when it comes to positive customer reviews. Many users report that with little to no website building experience, they could quickly and easily use Wix to create the website they needed. With their Web Editor and ADI, Wix caters specifically to these kinds of users, providing them with accessible tools that not only make the web-building process simple but offers a variety of options—so that you can customize your site in terms of both design and functionality.
Vast Feature Set
Whether a free Wix account or a paid, premium plan, Wix offers business owners an unprecedented list of options and features. You only need to decide what kind of builder you want to use to create your site and pick one of the 500 different design templates — considering your business type and the purpose you wish for your website to serve. Additionally, a Wix account includes the essential features you need to set up and maintain a website and offers specific options for eCommerce, service-based businesses, blogs, and more. Furthermore, Wix gives you access to the numerous add-ons available in the Wix App Market, allowing you to adjust your site and increase your functionality as you so choose.
Price
As a small business owner, you're probably looking for the most cost-effective way to create a website. Therefore, one of the most impressive benefits is everything you can do with a free Wix account. As we've explained, you'll not only be able to build and customize your website, but you'll have access to a variety of tools and integrations as well. If you want to sell online, you'll need a business premium plan. But for most other business purposes, you'll be able to create and operate your site completely free, or at the very least, at a low annual cost.
Wix Review: Cons
Although there are significant benefits associated with using Wix, there are also drawbacks to consider as well. Here are a few:
Overwhelming Options
Although we listed Wix's vast feature set as a positive aspect of their platform, it seems only fair that we also consider the negative side. Let's explain: First, the sheer amount of options to choose from can be overwhelming as a small business owner, especially if you don't know exactly what you want. Or conversely, even when you know exactly what you want and then have trouble finding it. Additionally, suppose you don't have much experience with website building and would prefer to have fewer, more defined offerings to choose from. In that case, you might find it difficult to make so many decisions throughout the process.
Furthermore, suppose you're looking to build a small business website for a specific purpose, like starting an eCommerce store. In that case, there might be more specialized offerings on the market that will meet your needs in a more succinct way, as opposed to this all-encompassing solution.
Price
Once again, you can only consider the price of Wix as a benefit depending on your particular business and what you need out of a website platform. Although you do indeed get significant functionality with a free Wix account, important business features require opting for a paid premium plan. Most notably, perhaps, is the ability to accept credit cards and other payment methods on your website—meaning if you need this capability, you'll at the very least have to purchase the Business Basic plan. Even though the listed $23 per month doesn't seem like much, when you consider other alternatives, like Weebly or Shopify, for example, you can get more business capabilities for a very similar cost. Similarly, suppose you're particularly interested in creating an eCommerce store. In that case, you can find a more specialized platform provider—who can give you, at a comparable or even lower cost, more of the tools you need for an online business.
Lack of Customer Support
Just as usability is most prevalent in positive online Wix.com reviews, the lack of customer support, or problems with existing support, is probably the most frequent negative that users describe. Although Wix has a customer support phone line you can call, customers complain it's difficult to get ahold of them. The service you receive is unhelpful - there should be more options for support. Additionally, and perhaps more concerningly, from 2019, there has been an uptick in negative Wix.com reviews online with users writing that Wix has been billing them erroneously, cancelling accounts without notice, and not complying with requests they make. Considering the recent frequency of reviews of this nature, you'll undoubtedly want to take this into account when deciding whether to use Wix for your business website.
Top Wix Alternatives
Before deciding wheater to use Wix to build your website, you'll want to consider other available options to see if there might be a service that better fulfills your business needs. Here are two top Wix alternatives:
Weebly
Suppose you're looking at Wix.com for the specific purpose of creating a business website (and not necessarily for eCommerce). In that case, you might look into Weebly as another solution. Weebly is another big player in the web-building space and is also known for its free accounts and ease of use. With Weebly, you have many similar (or even the same) tools you get with Wix and you can choose from various themes and a drag-and-drop builder to customize your site. A notable difference with Weebly compared to Wix is that you can change your theme once you've launched your site. You cannot do this with Wix templates, and it is a problematic point mentioned in many Wix.com reviews. Weebly also provides web hosting, SSL security and gives you the ability to buy a domain as well as use one you already own.
Weebly allows you to manage your website from their mobile app, integrate with third-party tools, and incorporate photos, videos, SEO, and more into your site. As we mentioned, you can use Weebly for free, or, like with Wix, you can choose to upgrade to a premium plan to increase your capabilities. Weebly offers four premium plans that range from $5 to $38 per month. You should note that if you choose the "Pro" plan, you'll pay $12 per month and receive shopping cart functionality as well as the ability to accept online payments. This is much more inexpensive than Wix's $23 per month Business Basic plan, the lowest-priced plan in their offer that gives you payment processing capabilities. That being said, Weebly offers additional eCommerce tools with their two higher-level business plans—and Square actually runs their eCommerce. Finally, Weebly offers more customer support options as even their free plan includes a community forum and chat or email support.
Shopify
On the other hand, if you're looking to create a business website more specifically for eCommerce capabilities, you'll want to consider Shopify as an alternative to Wix. Whereas we might say that Wix is a website platform that can have eCommerce functionalities, we'd say Shopify is first and foremost an eCommerce platform that also gives you a business website.
Shopify is one of the most popular eCommerce providers on the market today, known for its usability, customization capabilities, and various integration options.
Like Wix, when you use Shopify, you receive web hosting and security, domain name options, and the ability to create your store using an intuitive web builder. In fact, Wix and Shopify share many of the same general features. However, Shopify offers much greater capabilities in eCommerce—with advanced tools for shopping carts, inventory, order, customer management, and marketing and analytics.
Additionally, all Shopify plans allow you to accept online payments. However, you should know that Shopify does not offer a free account. Basic Shopify costs $29 per month and includes your eCommerce website, a blog, 24/7/365 customer support, and more.
If you're comparing Wix vs. Shopify for eCommerce, you're probably going to find the Basic Shopify plan much more suited for your needs than the Wix Business Basic or Business Unlimited plans will be (even though it's slightly more expensive).
Wix Review: The Bottom Line
Deciding whether Wix is the right platform for your business will depend on what exactly you're looking for and what you need from a website builder. If you want to quickly and easily create a business website for free, there's no doubt that you'll be able to do so with Wix.
By all accounts, Wix is an affordable and helpful tool for developing a customized website that can work for your business.
However, for those specifically looking to create an eCommerce store or have some e-commerce capabilities on your website, there are other options on the market, like Shopify, that will be a better fit for this purpose.
Ultimately, since Wix and other similar web tools have such vast offerings, you'll have to consider if using them is the most effective and efficient way to run your business website or if it'd be better to look further into more specialized services.
---
Author: Drasko Georgijev
I'm a financial technology professional with 15+ years of experience in payment cards, eCommerce, transaction processing, and switching.
From time to time, I'm sharing some helpful tips, tactics, and news about Digital Commerce and Fintech.
So don't forget to share this post and subscribe to my mailing list.
Got questions? Ping me on LinkedIn.