How to Link Payment Gateway to Wix Website
Today I'm going to be showing you how you can set up and link various payment gateways and payment methods on your Wix website.
So first off, to actually accept payments, you will have to have a Wix premium plan.
According to Wix, the number of available payment gateway providers depends on the webshop region. In some regions, there is only one provider available, while in others you can choose from multiple payment providers. See a list of available payment providers here.
Tip: Check your site's regional settings to take advantage of all the payment gateways and payment methods available in your region. Also check your business location at the top right.
We can see right here if I open up "upgrade now" to show you the type of plan you'll need. So we can see that if you want to accept payments on a Wix website, you will need one of the business and e-commerce plans.
You can really pick whichever one you want, whatever you think is most suited for your particular business and needs. Once you've gone ahead and done that, you can come down here back to your dashboard, and you can come into finances and click on payments here. Then you can go ahead and click on manage payment methods. Then we're going to be brought to the payment options right here.
Alternatively, from your site's dashboard click Accept Payments.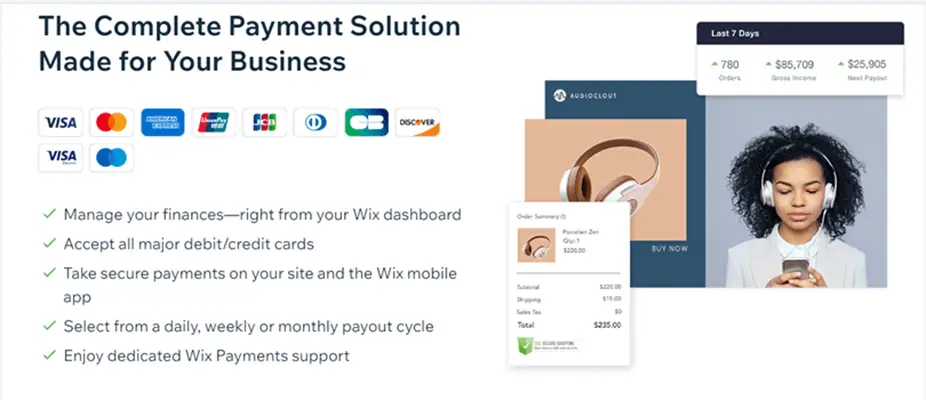 The first option we're going to see here is Wix payments. This is the one that most people will want to go ahead and use because this is the easiest one. It's offered by Wix, so it will be the most intuitive and easy to use. We can see that you can connect to accept all credit and debit cards, so this will give us a lot of coverage as far as payments go.
To set this up, you would just go ahead and click connect, and then you would just want to go ahead and confirm that you are not selling any of these products right here.
If you're not, you can go ahead and use Wix payments, but if you are, you're going to have to use a different provider. So you would just go ahead and click continue. You are going to be good to go here in just a second, and as mentioned earlier, you're going to see that you have to upgrade to use that.
The next thing we can set up here is PayPal. PayPal is one that I would recommend setting up as well because PayPal is a pretty universal checkout method.
At this point, many people use PayPal, so it's definitely nice to have the option on your site, and setting up PayPal is pretty straightforward. You just click connect, you come down here and just put in your PayPal email address and click connect, and that's it. You will see that setting up PayPal is very easy, and I would recommend doing that as well, as an alternative option for payments.
We have other options to choose from, for example, the next one here is manual payments. So if you want to accept cash or check or other custom forms of payments, you can go ahead and set that up here.
Wix has also recently added many new payment options, which we can see right here if we click to see more payment options.
So we'd see there's a bunch of different options here that we can take a look at.
Here, we can see that there's Paysavecash (by Skrill), which lets customers pay securely and efficiently with cash for purchases from your website. This one is probably not going to be used too often.
Now, these next two will be used more frequently here, so we can see that Afterpay here, provide your shoppers the ability to pay their order over four installments with no interest charged. So let's say if you're selling really expensive products, this would probably come in handy. So if you're selling like a thousand dollar product - Afterpay would allow the customer to go ahead and pay for that thousand dollar product in installments of two hundred and fifty dollars each.
Then another option is Affirm, that also makes some kind of offering for financing the purchase, instead of always being 4 installments.
Affirm essentially just provides financing for the purchases, so there's going to be a lot more customization here with how the customer can pay with Affirm, but both of these are good options, especially for more expensive products where people will want to go ahead and split their payments up.
Then we have a Point-of-Sale option, which is more used if you're selling things in person, like in a restaurant, or any brick-and-mortar shop.
Then we have Pinwheel here, similar to Wix payments, where you accept credit and debit cards. However, this does include high-risk businesses, so if you were a business selling one of the products that Wix payments doesn't want to work with, you can go ahead and see if you could work with pinwheel instead. This is a good alternative if you're selling some of the crazier stuff.
Then there is Sezzle payment gateway, which is another buy-now-pay-later option, similar to Affirm.
Then we have Alipay here, which is the most significant payment solution for Chinese websites, so you could this is another option as well.
Finally we have Evergreen Payments Northwest, another credit and debit card solution that also includes support for Hemp and CBD products.
We can also link third-party credit and debit providers. For example, we could go ahead and connect with Stripe which offers credit and debit cards, Square which also offers credit and debit cards, Braintree and Pinwheel (once again).

I would say as far as these additional payment methods, the most likely ones that you're going to be using besides Wix payments and PayPal would be Pinwheel if you're selling something that's a little bit sketchier.
Then Afterpay or Affirm if you're going to be selling something that is pretty expensive.
As far as actually setting all these up they're pretty easy, you just go ahead and pick the one you want to set up, hit connect, and then you can go to set up the accounts by following the instructions here. So, in this case, you'd have to create a Affirm account and then put in your account information.
So with that said, that's how you can go ahead and set up Wix payments on your Wix website.
If you found this post helpful, I'd appreciate it if you would share it.
---
Author: Drasko Georgijev
I'm a financial technology professional with 15+ years of experience in payment cards, eCommerce, POS transaction processing, and switching.
From time to time, I'm sharing some helpful tips, tactics, and news about Digital Commerce and Fintech.
So don't forget to share this post and subscribe to my mailing list.
Got questions? Ping me on LinkedIn.