How to Get 8 Digit BIN Number List Directly from MasterCard! (NEW)
Today I'm going to show you how you can access the official credit card Bin List database download (with new 8 digit BINs!) directly from the MasterCard website.
In fact, these are the exact steps that I'm using to access the latest MasterCard BIN number list (without registration or login) every time I need the USA bin list for some cool ecommerce project.
The best part?
Mastercard is refreshing their BIN LIST database every 24 hours.
And it's totally free.
Let's dive right in.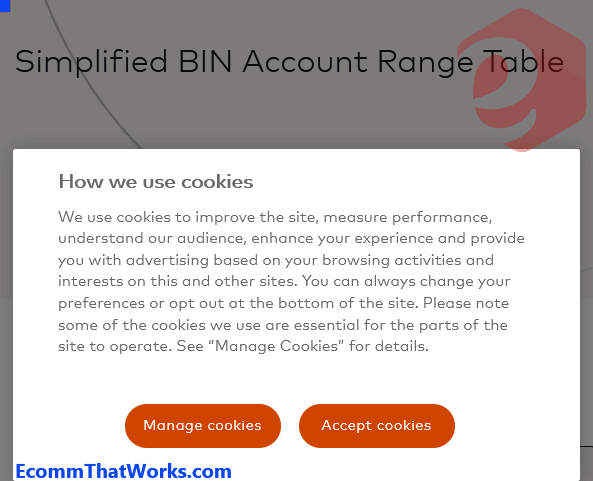 But before I share it with you,
I want to make sure that you understand exactly what is a BIN, how you can download the credit card number bin database list and how you can use it in a bit more detail.
Let's see first what a BIN list is, and what you can do with BIN data.
What is a BIN and a credit card BIN range?
BIN stands for Bank Identification Number, which is the first six digits of a payment card's Primary Account Number (PAN) that appear on the front of a credit or debit card.
BIN provides you with complete cardissuer information.
It is often treated as a Issuer Identification Number.
For instance, credit card BIN can indicate issuing bank's country, institution, and card type (debit or credit card).
Here is the list of most popular card types and their BIN prefixes:
| # | Card Type | Card Brand Prefixes |
| --- | --- | --- |
| 1 | American Express | 34, 37 |
| 2 | China UnionPay | 622, 810000 - 817199 |
| 3 | Discover | 6011, 65 |
| 4 | Diners Club | 30, 36, 38 |
| 5 | JCB | 35, 1800, 2131, 308800 - 334999 |
| 6 | MasterCard | 51-55, 20 |
| 7 | Maestro | 5020, 5038, 6304, 6759 |
| 8 | Visa | 4 |
The 8 Digit BINs Explained
Update 2021: Payment industry is moving away from the standard 6-digit BINs.
Final stage of transition to 8-digit BINs for issuer identification took place on April 2022.
The reason behind this is that pool of available 6-digit BINs has been depleted over time, mostly due to growth in number of card issuers, tokens and aliaspans used for virtual card numbers.
What is a Binlist?
MasterCard BinList is a database that contains all active debit and credit card ranges. You can use it to gather info about world card BINs for bank identification / issuer identification.
You can also use BIN List to find specific card product codes (for prepaid cards, debit, prepaid debit and credit cards) for each issuer BIN account range (up to a 10th position of the PAN).
Where Can I Find MasterCard BIN Range Table?
MasterCard has introduced a simplified card BIN-list with 8 digit bins on June 30, 2019, and made it publicly available.
In 2022, you can download a simplified MC BIN table from the BIN Account Range Table page on the MasterCard website.
If you are not able to open the link, here is an alternate URL address, copy the text below and paste it in your browser:
https://www.mastercard.us/en-us/issuers/products-and-solutions/simplified-bin-account-range-table.html
How Can I Download MasterCard BIN-List Database?
MasterCard is updating BIN tables daily, and you can manually download the file using the link from this post. Remember: no registration or login credentials required.
Actually, it's easier than you think.
Open the page and click the download button. A pop-up window will appear, where you need to enter your company name, role, anti-spam protection number, and click the download button again: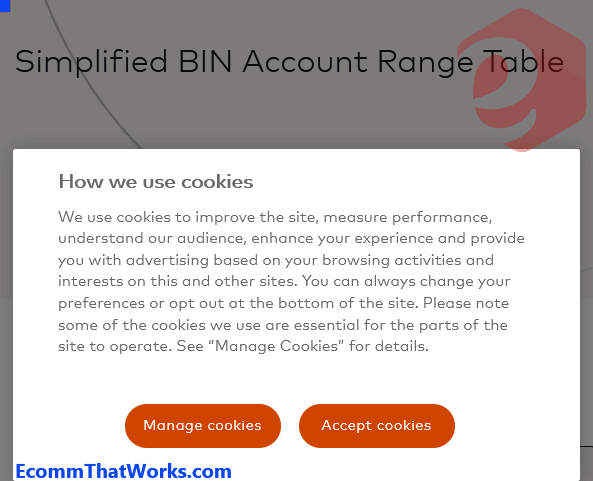 Finally, your browser will download the file MC-SBART.zip (size is around 1 megabyte).
Then you're done.
To prevent automated bot downloads, MasterCard has implemented anti-spam protection. That is why you'll need to manually repeat this process every time you want to download an updated bin list.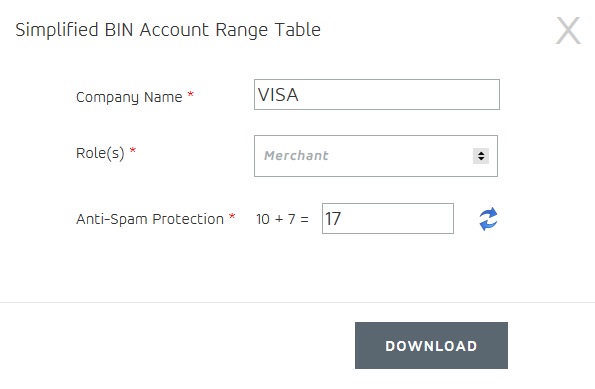 BONUS TIP: You can download complete VISA and Mastercard BIN list database directly from GitHub. It is not as fresh as that one on the Mastercard website, but it contains bin list of all credit card brands: Diners Club, JCB, AmEx, Visa...
What is a Bin Checker?
There is a lot of free BIN lookup and BIN checker websites available on the internet.
They offer an easy way to find out the issuing entity for a specific BIN, especially if you need to check only one or two BIN codes. The truth is that most bin list lookup sites do not update their list of bincodes regularly and do not support 8-digit BINs.
eCommThatWorks.com does not offer a BIN check page or API service, but GitHub BIN list 2022 database is certainly worth considering.
How Do You Tell From What Bank is a Credit Card?
After downloading the international BIN number list, unzip the file and open it using any spreadsheet software (excel, google sheets, calc) and search for a specific BIN.
There you will find all the details about the prepaid card, credit or debit card issuer.
To view the details of what data is inside the Mastercard BIN LIST Table, check out the BIN Account Range Table Reference Guide. It describes the fields and elements in the Simplified BIN Account Range Table.
For example, in the new BIN list database, you can easily find all Bank of America BINs, USA bin list, PayPal or Payoneer BINs.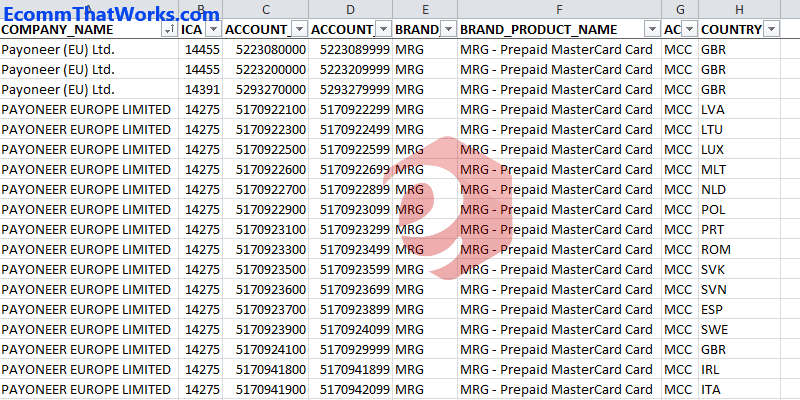 Why Would a Merchant Need to Use the BINList?
Online merchants and acquirers use the credit card BIN list for fraud prevention, bank identification and validation of online purchases.
Here's how it works:
A credit card's PAN contains a BIN that indicates a bank in country A - United States.
If the customer's billing address is in a country B, for example Puerto Rico, then the transaction may need to go through additional checks before authorization approval.
Many e-commerce merchants use the bin list for risk scoring and risk alerting to prevent chargeback. As I mentioned, with BINlist, you can quickly determine card type, such as debit, credit or prepaid, and country of issue.
For example:
The updated card issuer BIN list can help you recognize prepaid cards during the eCommerce checkout process and prevent their use for recurring transactions.
Another example:
Let's say that you have a new order in your eCommerce online store.
By doing a BIN number search in the binlist, you have concluded that this specific card is debit, issued in Nigeria. This situation is an instant alert for a merchant about potential suspicious order or fraudulent transaction.
From there, you can either inspect the order more closely or reject it to be safe.
Closing thoughts
The key takeaway?
In short:
Most Fintechs and eCommerce merchants were not able to gain access to official BIN/MPE tables until now.
So give it a go,
Use the BIN list database to simplify your day-to-day activities and to easily distinguish from different Mastercard products (credit / debit cards) in your payment checkout section.
I am occasionally publishing some useful, interesting tips (like this one) and news from the Fintech industry, so don't forget to subscribe to my mailing list.
Hopefully, this Bin Number List guide helped you in one way or another.

If it did, I'd appreciate if you would share it using the buttons below.
---
Author: Drasko Georgijev
I'm a financial technology professional with 15+ years of experience in payment cards, eCommerce, transaction processing and switching.
From time to time, I'm sharing some useful tips, tactics and news about Digital Commerce and Fintech.
So don't forget to share this post and subscribe to my mailing list.
Got questions? Ping me on LinkedIn.